All Work
The Equity Project Charter School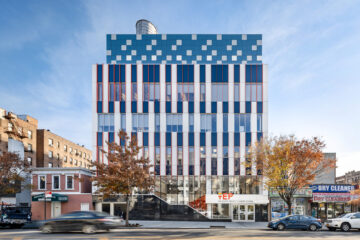 Identified by the New York Times as "One of the country's most closely watched education experiments," The Equity Project (TEP) is a charter school on a clear mission. Founded in 2009 in Washington Heights, TEP connects low-income students to world-class teachers, maximizing every student's potential in its aim for educational equity.
Operating year-round, the 1,080-student school needed a permanent building to relocate its middle school program from temporary trailers. The new building had to effectively support TEP's mission while demonstrating their commitment to the community. Its new, state-of-the-art, 480-student Middle School does just that, providing dedicated spaces for the 3 A's (Academics, Arts and Athletics) in an iconic neighborhood destination.
Purposefully non-contextual, the building incorporates various textures and bright colors (based on the TEP logo) inside and out—from the pixelated rain screen to the perforated metal reception desk and classroom floor finishes. These, and other signature elements, such as the orange metal fins across the façade, provide a distinct academic backdrop.
Natural daylight permeates the school, punctuated with a sky-lit central atrium stair that connects all student activities. Meanwhile, the curtain wall street façade opens the school back to the community, by revealing a double-height entry and gathering space.
Music and physical education are essential to the TEP student experience; daily classes are mandatory for all grade levels. Therefore, the school features two separate, divisible volumes: a large music space for teaching, practice, and performance and a full-court gymnasium, which can subdivide into spaces for up to four simultaneous activities.