All Work
Staten Island Zoo – Reptile Wing
Staten Island, NY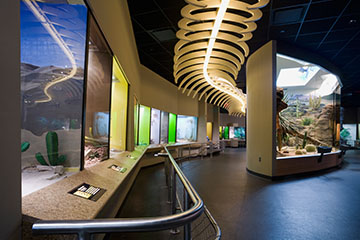 The Carl F. Kauffeld Hall of Reptiles, located in an expanded and renovated wing of the 1930's WPA exhibit hall of the Staten Island Zoo, houses their renowned reptile collection, with over 200 species.
C+GA was approached by the Zoo Director to completely redo the reptile exhibition, to bring the 1930's exhibit into the 21st Century. The programming and initial design involved multiple sessions with the Zoo's curator, keepers and wildlife consultant, to develop the themes and layout for the new exhibition. The main emphasis of the design was 1. the creation of a Fear Zone, to educate the public about reptiles and diminish the fears and myths about them; and 2. develop non-living exhibitions to keep visitors interested and returning to the exhibit.
The design supports three user groups, the animals, the zoo keepers and public visitors. The new serpentarium exhibits emphasize bio-diversity, with interactive zones for visitors to learn about reptiles and gain an appreciation for their crucial role in our ecosystem.
The Fear Zone draws on the natural fear of snakes, following the serpentine form which is reinforced by an architectural canopy suggesting a snake's anatomy lit along its spine. The main intent is to eliminate the fear of reptiles, particularly snakes, and dispel cultural misconceptions and myths through education and by providing opportunities to interact with specimens. The visitor is led along an educational experience, through graphics on one side, and live venomous snakes on the other, winding them through the body of a snake and its relationship to humans and the environment. When the reptiles are asleep or still, as they so often are, the visitor can experience them through hands on elements, such as a snake jaw opening and closing, and hearing the hiss, hearbeat and rattle of a snake.
Awards:
– The City of NY Design + Construction Excellence 2008
– Staten Island AIA 2004 Design Awards
– Metro Chapter 2008 Project of the Year, Construction Management Association of America
– NY Construction News Best of 2007 – Award of Merit: Cultural
Sustainability:
– NYC High Performance Sustainability Guidelines