All Work
NJ Train Shed and Terminal
Jersey City, NJ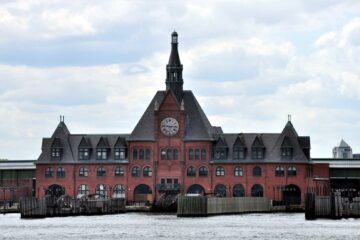 Master Plan for the restoration and adaptive re-use of the Central Railroad of New Jersey 350 by 800 foot historic train shed at Liberty State Park, including recommendations for new uses and an analysis of how the re-use ties into the park-wide developments, for the State of New Jersey Division of Parks and Forestry. The project was funded through the Federal TEA-1 Program.
This Historic Preservation Master Plan studied the restoration and re-use of the largest existing Bush-type train shed, looking at a variety of issues, including local planning studies, technical analysis and recommendations, marketing analysis, programming recommendations, and cost estimates for several preservation and restoration options, and included developing ideas for integrating the Train Shed into the larger Park and adjacent New York harbor. The estimated construction cost is $40,000,000.
The Train Shed Master Plan was followed by the historic renovation of the Train Terminal for a two year temporary exhibit, classroom and office facility for the Liberty Science Center. In addition to meeting the Science Center's requirements, C+GA designed the spaces to provide flexibility for the Terminal Building's future and longer-term Liberty State Park uses, as the Terminal provides ferry service to the Statue of Liberty and Ellis Island. All work, which included new systems, roof and exterior window repairs, conformed to requirements of the NJ State Historic Preservation Office.
Client: State of New Jersey Division of Parks and Forestry