All Work
National Dance Institute
New York, NY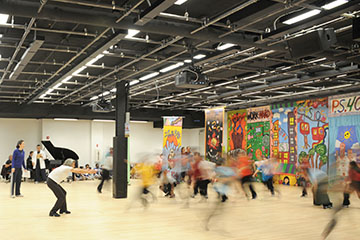 The National Dance Institute (NDI) looked to the former auditorium at PS90 for their new home after 30 years of a nomadic existence. NDI's facility, the Center for Learning and the Arts, consists of teaching and practice studios, performance spaces, galleries, and offices. The location in the historic Harlem school that was recently renovated into 75 apartments is a perfect setting for NDI, which has worked with tens of thousands of public school students.
The space provides a clean, modern and energy efficient setting to teach and perform dance, and to exhibit NDI's wonderful art collection, representing the creativity of New York. Upon entering, the high white ceiling's geometry descends into a curving slope that bends above the stairs into the ceiling of the main lobby below. In the wide gallery outside the studios cubbies provide storage as well as seating for parents, visitors and dancers to observe classes and performances through acoustic windows.
Working within the constraints of the existing structure and limited ceiling heights, spaces were created which allow for flexibility in teaching and performances. The largest dance studio has retractable seating for audiences of up to 200 people, along with a full grid for lighting and curtains, a catwalk for technical operations. A distance learning system is also incorporated allowing classes to be taught both in the space and around the world. The three smaller dance studios are designed for varied teaching including tap and ballet.
The administrative spaces, connected to the studios through the street level Lobby, are a warm and welcoming space for a collaborative environment. The grand spaces of the former school allowed for high ceilings, with 12' arched windows looking into the courtyard. Energy efficient lighting and water conserving fixtures were used throughout, and ceiling fans at the offices.  NDI's new home enables it to serve an even larger community, and to introduce dance to children worldwide.