All Work
National Dance Institute
New York, NY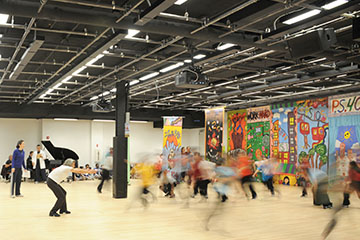 Public School 90, abandoned and neglected since the 1970s and an anchor of the West 147th – 149th Streets Historic District, sat empty for three plus decades. The majestic building offers new value and meaning for the neighborhood, as the home of the National Dance Institute's (NDI) Center for Learning and the Arts, and 72 modern residential units (30% affordable) occupying the upper floors, offering spacious and elegant mixed-income living within a notable historic structure.
Annually, NDI serves 30,000 children citywide, and thousands more globally and remotely. Nomadic for 30 years, they sought a permanent home for teaching, practice, performance, and administration. Repurposing the school's existing auditorium as the hub, C+GA captured NDI's creative spirit in a modern, 18,000-SF facility. Inside, lofty ceilings accommodate a dynamic range of programming and a modern art exhibition. Warm and welcoming offices connect to the studios through the street-level lobby / stairs.
The creation of a 200-seat performance dance studio with a distance-learning system and full theatrical lighting and sound systems, along with four smaller studios – flexible and acoustically isolated – support teaching and performance,
The adaptive reuse had to conform to Landmark requirements and required major structural interventions to preserve the deteriorated structure. The residential entrance courtyard was redesigned to allow for handicapped accessibility. It and the courtyard over the auditorium offer landscaped recreation for the residents and private outdoor space for NDI and the adjacent units. The existing footprint provided opportunities to create high ceilinged apartments with generous natural light.  New penthouse units and terraces were added. Common amenities include a media lab, fitness center, lounge, and bicycle storage.