All Work
Beach Green Dunes I and II
Queens, NY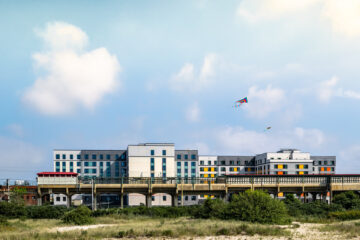 C+GA strives to simultaneously tackle America's mounting affordable housing crisis along with its ever-present environmental one. Located along the beachfront in NYC's Rockaways, Beach Green Dunes I and II deliver 228 sustainable and resilient affordable units to a critical neighborhood. Designed to Passive House standards and with efficient building systems strategies, the development features rooftop solar photovoltaics, a bioswale garden, and heat pumps.
Like siblings two years apart, the projects are distinct, yet familial, with similar façades distinguished through color and window placement. Both incorporate state-of-the-art resiliency planning to mitigate the severe weather conditions and flooding potential found in the Rockaways, as well as advanced envelope and HVAC systems for increased comfort and improved air quality. They both welcome residents home with outdoor recreation and passive spaces, play yards, a fitness room, and laundry rooms.
However, BGD I is seven stories; BGD II is eight, with 20% more units because of changes to ZQA (Zoning for Quality and Affordablity) and updated NYC HPD requirements. Phase I has a concrete plank structure with insulating concrete forms (ICFs) and uses a variable refrigerant flow (VRF) system. Phase II has a more traditional concrete block-and-plank structure and ground source heat pumps. While both buildings employ energy recovery ventilation (ERV), BGD I's is unitized and BGD II's are centralized.
Together, these progressive, efficient buildings stand as a model for the next generation of publicly funded affordable housing projects.
Size - Phase I: 109,000 sf
Client - Phase I: The Bluestone Organization
Size - Phase II: 121,400 sf
Client - Phase II: L+M Development Partners